Cooking: Cake Balls
You read that right. Cake balls. It probably brings to mind that one SNL skit from forever ago with Alec Baldwin. But not quite the same. But Cake Pops are sweeping the nation (did you know you could order a cake pop at Starbucks??)
I decided to try my hand at these delicious new treats. Anything small and individually sized, I'm all over. So I went to work. First were the ingredients: cake mix (and all that the mix requires), icing, melting chocolate (found at most craft stores), mini-baking cups, and that's it!
I prepared the cake exactly as the box specified, then let it cool. Once it was completely cool, I crumbled it into a bowl. Then adding one spoonful at a time, I scooped some icing in the bowl and mixed it in. Keep mixing and adding until the cake is completely mixed with the icing and you can easily mold the mixture. Don't add too much or it will be too moist (normally I hate that word, but for this recipe, it makes sense) and it won't form correctly. As you start mixing you will see the consistency and how it works out.
Once the mixture is complete, form them into small balls. I used a cookie dough scoop so that they were all the same size. Definitely helped. Roll them tightly, but don't smash them together. Place them on wax paper cookie sheet and toss them in the fridge for a few hours. They won't be rock hard, but they should be stiff when you get them back out.
Melt the hard candy as per the directions on the back of the bag. Here's the main tip…heat on defrost rather than normal heat. It goes slower, sure, but that's what you want. Worst thing possible is to overheat. Stir every 20-30 seconds, and keep an eye on it. This is not something to nuke and walk away from. Once the candy is melted, take a couple of the cake balls out of the fridge at a time. Dump one in the melted candy, cover completely with a spoon, then deliver to a wax sheet to harden. Repeat process until you're done.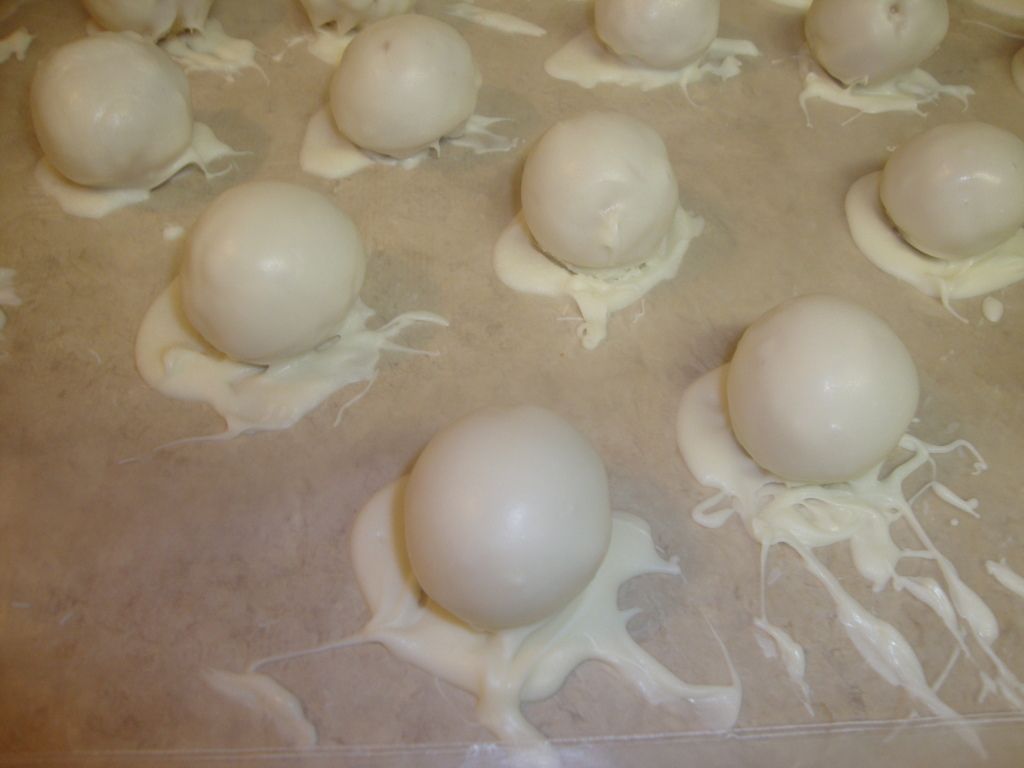 Now you should let them harden. (Should take about half an hour, total. No need to pop them in the fridge for this.) If you want, take a toothpick while the candy coating is still warm and draw a line around the ball itself. This will make it easier to break off the excess once they are set. But if you forget to do this, it isn't a big deal.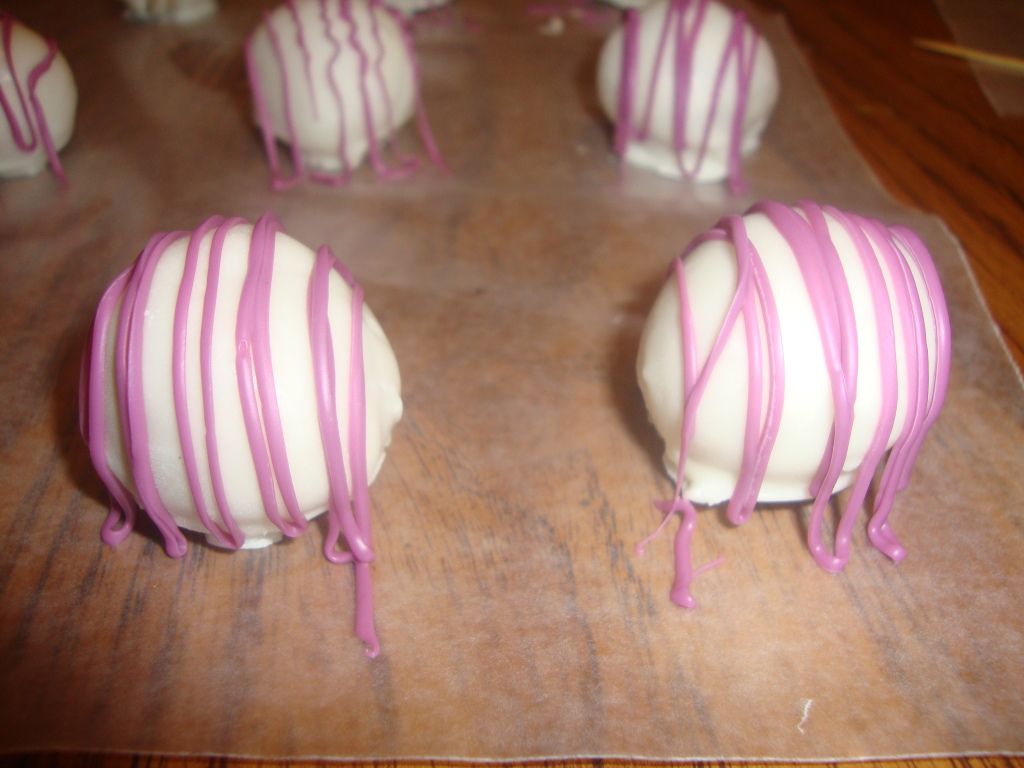 Now, time to decorate! Well, okay, if you are choosing sprinkles, you should sprinkle them on BEFORE they harden. But if you are doing designs with color like I did, then wait for them to harden completely. After that, you can melt another color of candy (they come in every color possible) in a bag. After melting it, snip off the tip and go crazy. I just did squiggly lines because I lack creativity and imagination. But if I had more of each, I'd have done something cooler. Either way, they worked.
Let THAT coating set, and then you can place them in their individual baking cups for a cute presentation. You're done! Congratulations, and let me know if you plan on trying these at home.
These guys make great gifts. I actually created these for Teacher Appreciation week at my daughter's preschool. And from all accounts, people enjoyed them. So much easier for people to handle than cutting into a cake, right? Oh, I created a video of this in case you were curious. It's most of the same, but it might help to play it before you give this a try as a refresher.
And PS: Did you see my excerpt that was posted earlier this week? If not, give it a quick check!
Come back on Friday, when I've got my first-ever military couple that I'm interviewing for my Military Moments segment! They're such a cute couple, you won't want to miss this chance to support some unsung heroes.
Until then, stay sweet and fall in love with a good book!
Jeanette