Sugar, Spice & Everything Nice
I've got a toddler of the female variety. Along with the fussiness, the frivolity and the fun, little girls come with a lot of STUFF! And it's the most ridiculously adorable stuff ever…at least most of the time. But what I'm tackling today is the issue of hair accessories. Hair ties, hair bows, hair bands, hair clips… The possibilities for what you can put in a little girl's hair are endless it seems. And they're all tiny and easy to lose. And even easier to let get completely out of control.
I started with a craft box from JoAnn Fabrics. This cost me $5.99. It's plastic, and it was in the section where the jewelry making stuff is. I guess it's probably meant to hold beads or fastenings or some other delicate, tiny pieces of what-not. But for our express purposes, it's clearly going to work. I also picked out a piece of scrapbook paper from my stash that I liked. For this, I only used one piece of paper for most of it, then I used a second piece as a contrast. (More on that later.) But you could do this entire project with just one piece of scrapbook paper. That'd be like 40 cents at any craft store. And then Mod Podge, which I also already had, but that's like $6 a bottle, and the bottle will last you through several projects. (Mod Podge is my new obsession. Seriously. This thing goes on everything!)
I started with cutting down squares of the scrapbook that would fit snugly at the bottom of the individual boxes. That was a pain in the butt, I won't lie. But the result was worth it. Plus, I just used the time to watch The King's Speech with the commentary on. Really, I wasn't wasting any time.
After those were cut, I smoothed on a very thin layer of Mod Podge and smoothed out the paper. The key here was to look up from the bottom of the container, because that's where you'll see the bubbles and where you need to smooth it out. Wash, rinse, repeat over and over until all the squares are finished. Let it dry as long as you want, but preferably at least one full hour. I waited two, because I didn't want to screw this up. Those squares were too much a pain in the butt to redo!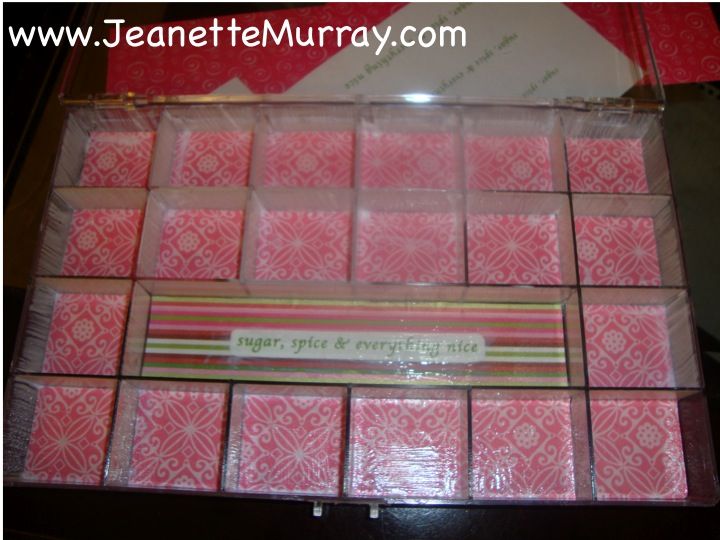 I chose to use a contrasting pattern for that longer section in the middle. And then I printed out the little strip saying "sugar, spice & everything nice" just to add a little something extra to the container.
After that, I slid a layer of Mod Podge over all of squares. Just spread it on nice and evenly in each of the boxes. It will go on like thin white paste, but I promise it will dry clear! Don't panic! So let it dry overnight.
And then in the end, you have a wonderful way to organize out your daughter's teeny tiny bows and clips and hair ties. I love the fact that it has a latch, because I'm notoriously clumsy and I was constantly knocking over the container holding those rubber bands and scattering them all over the carpet. So now I just latch it when I'm done, and even if I knock it over, the ties stay in their own boxes.
Perfect! An easy, relatively cheap way of keeping things separate and neat. Now, if only I could find the rest of her clips that are scattered all over the house…