Goodwill Treasures
Yet another post about my Goodwill treasures I'd found. I'm turning into quite the crafter these days! Can you believe it? Neither can I. But there it is. This "treasure" was also purchased the same time I bought the duck-painting-turned-chalkboard. And I have to say, it was much easier than the chalkboard. Not that the duck was all that difficult. Just, less steps.
I started out with this dirty frame with an ugly-butt faded flower photo. The glass was sticky, the frame had some delightful chalk-like substance that I didn't examine too closely (in fear that I might have to turn it in to the police as evidence) and the photo was, well. Hello, 80's. That basically sums it all up. But it was 35 cents. How could I pass that up? Knowing what I was going to do with it, and knowing another frame of this same size, even a plain one, would have cost me at least $5. And knowing I was about to basically start from scratch, why would I spend more?
I had white paint already. I removed the glass and the adorable floral masterpiece and painted the frame white. I already had this paint, but I'm sure it'd only be like 2 or 3 bucks if you bought this size. But you wouldn't need this much paint. A small 59 cent bottle would get you through a frame this size. I wiped the frame down (bye bye, suspicious white substance) and gave the thing three coats, to cover up any nicks and all that.
After that, I cleaned the glass (which took an hour…what the HELL was on that thing?!) and then cut to size a piece of scrapbook paper. 33 cents. Popped that in, called it done. (See where I'm going with this yet? No? Then keep watching, my little pupils.)
Oh wait, not quite done. I knew that I would be hanging this bad boy up, but I also know that thanks to living in an apartment, I didn't want to do any more nail holes than I already had. Plus, it was going on the back of the door, so there was no way I'd be nailing anything in there. So I purchased some of those Command strips and followed the directions. They're in English. So read them.
Then I hung it up. Ah. You get it now, don't you? I turned the ugly picture frame with the ugly picture and the dirty, grimy glass into a dry erase board. Now, looking at it more, I think I might have chosen poorly for the color of the frame. White frame, white door… You see the problem. I have yet to choose another color (I'm picky this time around) but I will likely repaint it some other color.
My only advice if you try this is to pick a paper pattern that is cute but not too busy, and a color that has something to it, but isn't too dark. You want to be able to read what you're writing on there! This will work on any size frame, any color paper, any color frame, anywhere, anytime. Glass is glass, after all! When Hubs saw this, he said "Why didn't you just buy another dry erase board?" Well, first of all, because regular simple dry erase boards are typically ugly. Not to mention, a board this size would likely be 8 or 9 bucks by itself. Considering I had everything else on my own, the frame cost me 35 cents and the paper 33 cents. So overall, this cost me 68 cents. Much cheaper, and much prettier! A little more work, but worth it. Let's see the beginning and end results side-by-side here.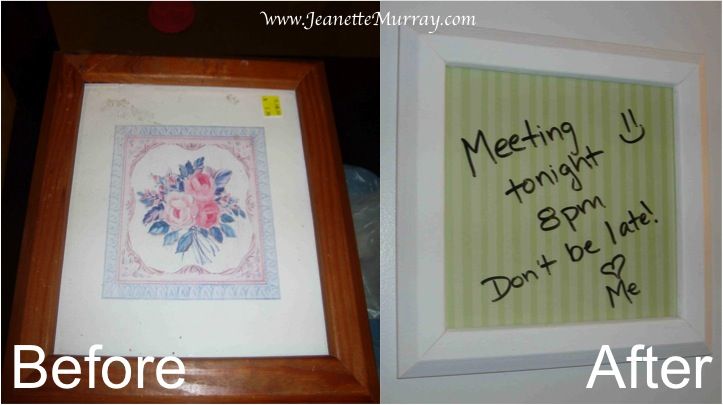 Yup. It works. Well, there's another example of turning Goodwill "treasures" into real treasures. I've got one more from this trip to share with you…a Christmas basket with a lot of problems. Come back soon for more Trash-To-Treasures time!
Jeanette