January 2012 Recommended Reading
This is the first monthly installment of my recommended reads. I might be an author, but I'm a reader first and foremost. So, why not spread the love and give my blog visitors my own recommendations for what I've read recently that I just couldn't get enough of?
This month's recommended read is going to be Pamela Clare's romantic suspense I-Team series. There are currently five books, though I'm not sure if more are planned. They are, in order, Extreme Exposure, Hard Evidence, Unlawful Contact, Naked Edge and Breaking Point.
I recommend the entire series. And though it's not at all necessary, reading in order is definitely a treat. This isn't one of those series where you meet the couple, hear their story, then they're only vaguely referenced in the other books. The entire I-Team—and their significant other, once they enter the picture—plays a large role in all the other books. It's honestly just fun to see how each of the men come into the picture and how they become friends through their wives' connections. Become a single unit.
As I said, they're romantic suspense. The action is excellently choreographed to the point that the picture is painted perfectly in mind. It's almost as if, while I'm reading, I'm watching it on a mental screen, it's that vivid.
To keep this from getting too long, I'll keep my comments from each book short and to the point. But I could go on about each individually for a long time, if I was given the chance…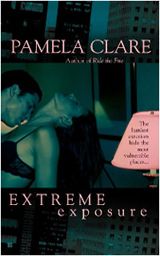 First is Extreme Exposure. We've got reporter Kara McMillan and Reece Sheridan, the handsome Senator. Political intrigue, learning to trust, great action and fiery passion rolled into one to create a great opening book for the series. This one, the hero Reece was just the icing on the cake. His sweet nature honestly had me melting. Not as "kick ass and take names" physical as the other heroes, but he's no wimp either. It's a nice blend.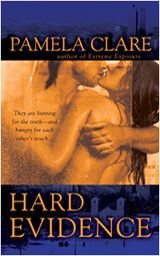 Next up is Hard Evidence. This one features I-Teamer Tessa ("bless her heart") Novak and FBI agent Julian Darcangelo. I am so not a person who likes a man with long hair, it's just not my thing. But there was something about Darkangelo that sucked me in. Enigmatic is the word. He literally takes bullets for his woman…even before he's ready to admit to himself she's his. Now that's a hero.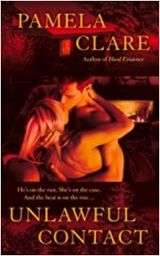 After that comes Sophie Alton and Marc Hunter (Hunt) in Unlawful Contact. Convicted of a crime he didn't commit, Marc uses Sophie to escape from prison so he can find his missing sister. I wondered how I could come to like a hero who would take the heroine hostage. It seemed so barbaric, so … Evil Viking. But that's just the premise. After a few chapters I found myself Marc's biggest supporter—besides Sophie, naturally! And the ending for this one is extra-sweet. That's all I'll say about that.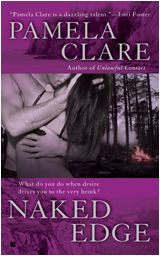 After that is Naked Edge, featuring Kat James and park ranger Gabe Rossiter. There's not much I can say about this without spoiling it, but I'll just say that this book made me cry. I. Do. Not. Cry. Reading. Books. But I did. I cried. Pamela Clare, darn her, made me cry reading this book. That's all I'll say there. Just read it. Seriously. Just…go read it. (And now I'm going to tear up just thinking about it. Dang you, Pamela!)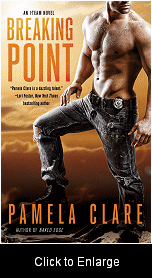 And last, but absolutely not least, Breaking Point, with our sweet southern belle Natalie Benoit and our hardened soldier-turned-US Marshal Zach McBride, still dealing with his past, emotionally atoning day after day for what he thought he should have done differently in the heat of battle. These two meet in captivity, and I liked how the first thing they knew about each other was their voices, thanks to the brick wall between their cells. I won't say much more, but suffice to say that the action scene in the apartment toward the end of the book was one of the best fight/action scenes I've ever read.
So there you have it. The nitty gritty of my take on the I-Team series by Pamela Clare. You can find the books as ebook or paperback. And I hope you come back next month for my next Recommended Reading blog post!
Jeanette
Standard Monthly Disclaimer: I am not affiliated, nor do I receive payment/compensation for, any recommendations I give on my blog or any other social media outlets. These opinions are mine alone and I receive nothing for them but the pleasure of sharing books that I've enjoyed with other romance readers.