Forever Lazy
Yes. The Forever Lazy. No idea what I'm talking about? Really? Well hold on a moment. Go here, watch this video, and then come back. Go ahead. I'll wait.
The Forever Lazy was recently used as a bargaining chip between myself and my husband. First one to break and get fast food would have to put on the Forever Lazy and have their picture taken in it.
I lost. It was a Sonic Route 44 Diet Vanilla Coke, if you're curious what broke me.
So. With that being said…I ordered the punishment and waited. And waited. And waited. Finally, it was here. Actually, it's been here for awhile, I just didn't have time to take pictures. But I did tonight. And so, without further delay, here are the pictures of me in the Forever Lazy.
First, we have me just showing off the amazing nature that is this garment. Note the classy way the black zipper contrasts against the hot pink. The way the fit makes me look like a sexy hot air balloon was draped over my lifeless body and left for dead. It's hot. You want some.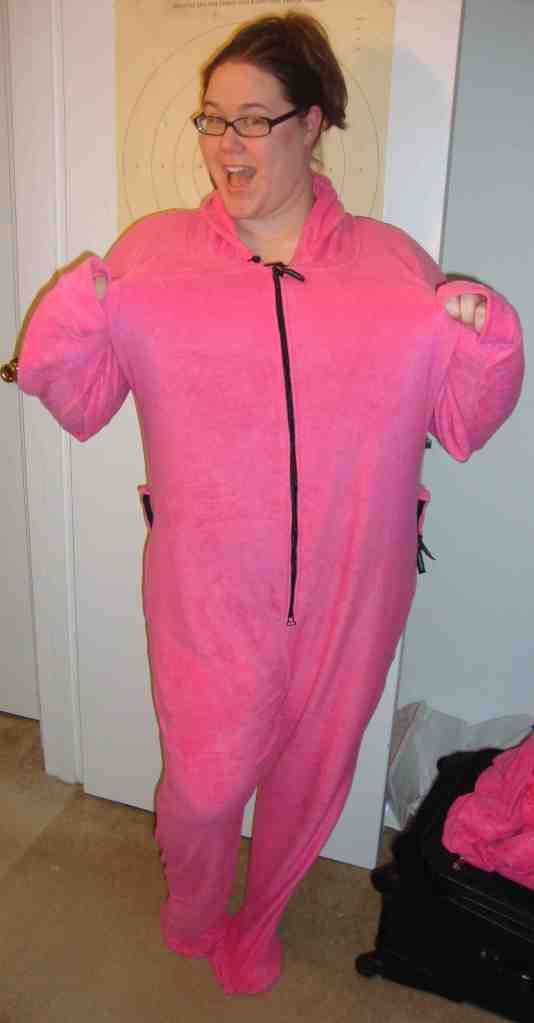 Then we move on to the catalog pose. I had to highlight the hood, because what pair of pajamas would be complete without something to cover your head and smother you to death while you sleep? Hubs thinks that it's actually to be used for ninja assassin assignments, and honestly, I think he might be right. Much as it pains me to write that sentence… Look at how well I blend in to that door behind me. I could sneak up on a Navy SEAL and they wouldn't know what hit them. (Okay, at least, they wouldn't know what hit them. The sneaking part, it might be more like … no.)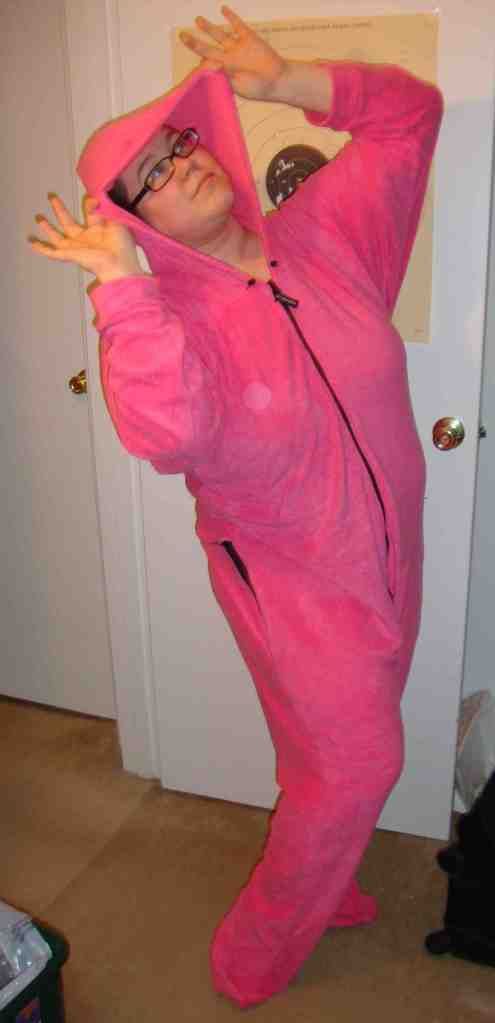 And lastly, we have the comparison to a dearly beloved Disney character. Frankly, this thing will save you a ton of cash if you wear it on Halloween and just tell everyone you're Peach from Finding Nemo. Naturally, you'd have to walk around with your hands in the air. And it would help for authenticity purposes if you could have a friend constantly yell at you, "CAN'T HEAR YOU, PEACH!" Because nothing ruins Halloween like an inauthentic costume.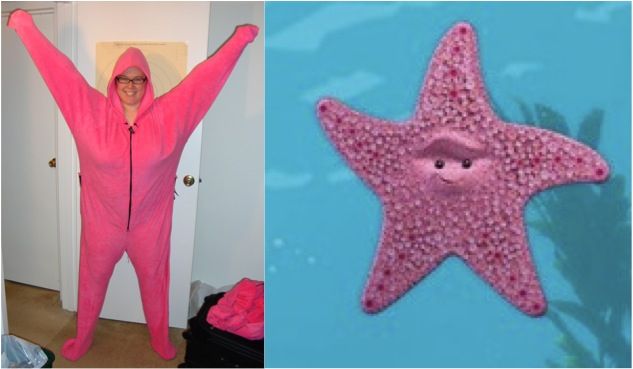 I leave you with these parting words, dear readers… If you see someone approaching and they are wearing a Forever Lazy…run. Because you never know, they might just be a ninja assassin in disguise. (Or a walking starfish…which is also really creepy.) Quite clever, when you think about it. I mean, look at me. Do you think anyone would believe I had the stealth to break it out ninja-style? Surprise is our friend.
Jeanette
Edited to add: The next day, Hubs got in on the action and modeled the butt flap! Don't miss that. His expression is one of pure joy.