Duck Chalkboard
Another blog I follow issued a challenge to tackle a small project and make it pretty. While often times her blog focuses on large projects, like organizing an entire playroom or kitchen drawers. But this challenge was issued to her followers: take a small project and finish it. Even something as simple as covering a can with paper to make a pencil holder. Your choice. The blog, if you were curious, is iHeartOrganizing. Seriously, this woman is amazing. And the readers who send in their projects are simply wonderful too. So many different suggestions, from how to organize your photos on your computer to creating a better lighting design to how to manage your children's Lego collection.
I decided to head over to Goodwill to see what was available and go from there. I found a few different things, but here's the first one that I scored with! It was an … interesting painted duck picture on a frame. (Hubs, when he saw it, grimaced and asked where in the good loving hell I was planning on hanging that. I told him over his nightstand, so he could wake up to it every morning. Shockingly, he didn't start divorce proceedings.) But hey, it was like 25 cents. (And yet, this point didn't sway him as to its importance.)
What we started out with was this lovely picture, some chalkboard paint, some red paint (not pictured) and cheap foam brushes. (Chalkboard paint, did you say?!?!) I did say. Chalkboard paint. How interesting, right? It was, by far, the most expensive of all the craft items I bought for these projects. But it's worth it, because I have so many plans for this stuff. I used so little, and it was worth it. It was like $5.99 for that big jar pictured, if you were curious.
I first painted over the duck (sorry, fowl friend) with the chalkboard paint. It suggests "at least two coats." I did three. After that dried overnight, I then painted a bright red paint over the border. Three coats again, just to make sure we covered everything.(This paint would have been 59 cents had I had to buy it…but I had it already.) I had also clipped the string off the top so I filled in the holes where the strings were with paint.
Once that was completely dry, I made sure to coat the board (where it was painted with the chalkboard paint) with chalk, then wash it off with soap and water. Why did I do this? Because the directions told me to. How come? No idea. But I am nothing if not a rule follower. (Total lie. I hate rules. But since I'd never worked with this paint before, I felt it prudent to at least TRY following the rules first time out the gate.) After I did all of this, and the board was dry, according to the directions, I was technically done.
But was I done? Hell nah. Why? I just can't leave a good thing alone. So I decided to use some Krazy Glue and glued on ribbon to the back of the board so that I could hang it up when my Tot created something particularly boo-teee-ful. Which is always, of course, because she's my baby girl and I think everything is does is beautiful. (Sort of. Look, I'm a realist.)
After that, it was time to present the chalkboard to my Tot (seen here in her pajamas, fresh from a bath, and ready for bed) and see what she did with it. She was quite amused, and thought it was a lot of fun. And once she presented me with her boo-tee-ful masterpiece, I used that string to hang it up in its place of honor, on some wall in the play room.
So now every time she gets the idea to create something new, I can wipe it down and let her start all over. I think that's something she will enjoy, the ability to continually create over and over. And I know for sure this is something I, personally, will love. Because I hate having 45 different coloring books all over the place, and hate lots of loose papers just hanging around. So this saves my sanity, and saves paper. Yay economy!
Let's go ahead and check the side-by-side one more time. We started with some random duck picture painted on a board with a frame and a string. And we turned it into a chalkboard that my daughter can use regularly to create with, and it has a built-in frame and way to hang it up and display it instantly. It's a win-win-win all around. Not to mention, the board cost me about 25 cents, the paint cost me $6 (but I used about 30 cents of that), and that was it! The rest, I had already.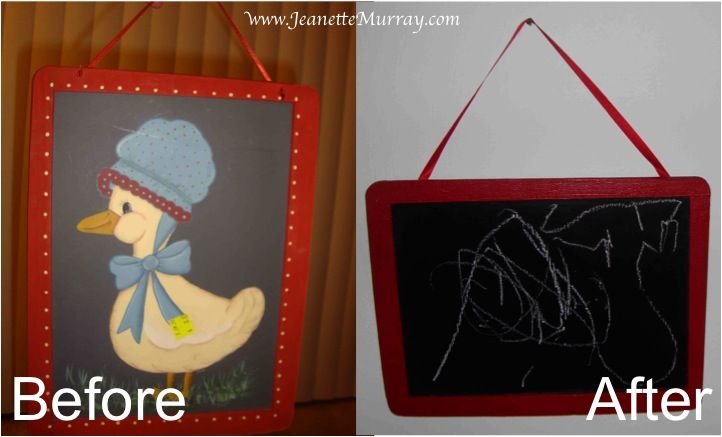 And that's the end of that. My latest creation, developed straight from the Goodwill and now hanging on my playroom wall. And another great point, it was my first time playing with chalkboard paint! I would love to do more with this, and I do have some not-so-concrete plans that I will look into in the future. So that's my moment. What's my lesson for the day? Create! Even if it's not words, creating is just plain fun. And I'll share more of the Goodwill finds and their end results in the near future.
Jeanette